INGENICO DESK 3500
The Ingenico Desk 3500 card reader is your solution for easy and trustworthy handling of payment transactions: For you and your customers. The countertop EC terminal, which is equipped with a privacy screen, high-resolution colour display, and clear keypad, supports contactless payments (including with smartphones via NFC thanks to the optimally positioned contactless reader above the display) as well as payment transactions via chip or magnetic stripe and is ideally suited for stationary use – also thanks to the included thermal printer.
The communication box, which connects to the Ingenico Desk3500 with a central cable, ensures order at the checkout station. Equipped with an Ethernet interface or also available as a Wi-Fi version, the Ingenico Desk/3500 EC terminal is a perfect stationary desktop solution and creates flexibility at the cash desk.
Furthermore, the Ingenico Desk/3500 EC terminal not only supports payment methods on the German market but can also be configured for other markets and additional applications such as loyalty apps.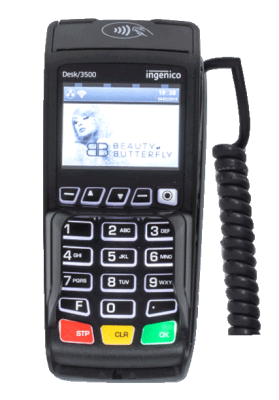 Card reader (NFC, chip, magnet)
Color display
Thermal printer
Ethernet & Wi-Fi
expandable software concept
Loyalty card compatible
PCI PED 4.x security standard