INGENICO LINK/2500
For the money in your pocket: Mobile, compact, cashless payments are accepted with the Ingenico Link2500
Ergonomic.
With its ideal smartphone-like dimensions, the Ingenico Link 2500 EC terminal is very practical and user-friendly to handle for mobile use. Charging is also done via the now-common USB-C port.
Communicative like its owner
Whether you are indoors or outdoors: You connect the Link 2500 via Wi-Fi over either the home or corporate network. Of course, you can also use your mobile phone's hotspot to connect.
Cashing out: mobile!
The Link 2500 card reader can be easily connected to a smartphone via Ingenico's proprietary Payment Communication Interface or via standard cash register protocols. This turns the Android or IOS device (smartphone/tablet) into a mobile POS solution (mPOS) in no time at all. The Ingenico Link/2500 could also be connected to stationary POS systems via WLAN, for example, to install queue busting.
Security ensures safety
The Link/2500 is certified for the valid regulations (PCI 5.x and EMV) and any requirement of the German banking industry. Secure processing of all international credit and debit cards is guaranteed. In addition to its numerous additional functions, this also includes the equally secure processing of Girocards.
Software, Part One:
The Link 2500 is supplied with application software, which allows the EC card reader to be configured for use abroad and to support various payment methods.
Software, Part Two:
Maintenance made easy: For this purpose, the manufacturer Ingenico provides the Terminal Management System (TMS) developed in-house.
Software, Part Three:
For Android and iOS, the manufacturer Ingenico provides – for the use of different applications – an application that supports not only all payment processes but also administrative activities. This allows interested app developers to access a library for support with the PCL interface protocol used if needed.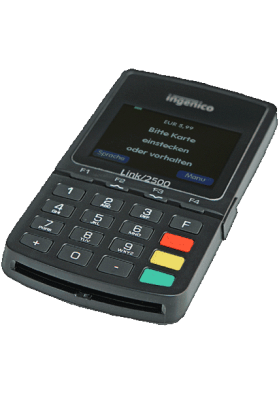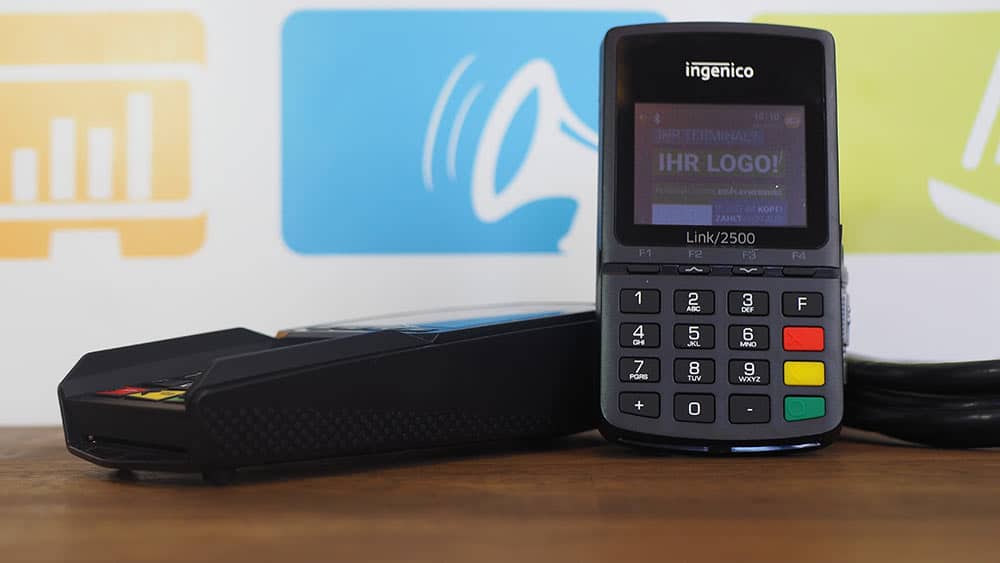 Mobile, compact, cashless
Color display
Can be used as a mobile cash register system
PCI 5.x and EMC for maximum safety
All relevant transaction types are accepted
Card reader: magnet, chip & contactless
Powerful battery
Charging functionality via USB-C
Loyalty card compatible
Wi-Fi