How to optimize your payment processes with payment links
Using payment links, also known as pay links or pay-by-link, companies can easily accept secure online payments even without a web store, for example for orders placed by phone, email, chat or via social media channels.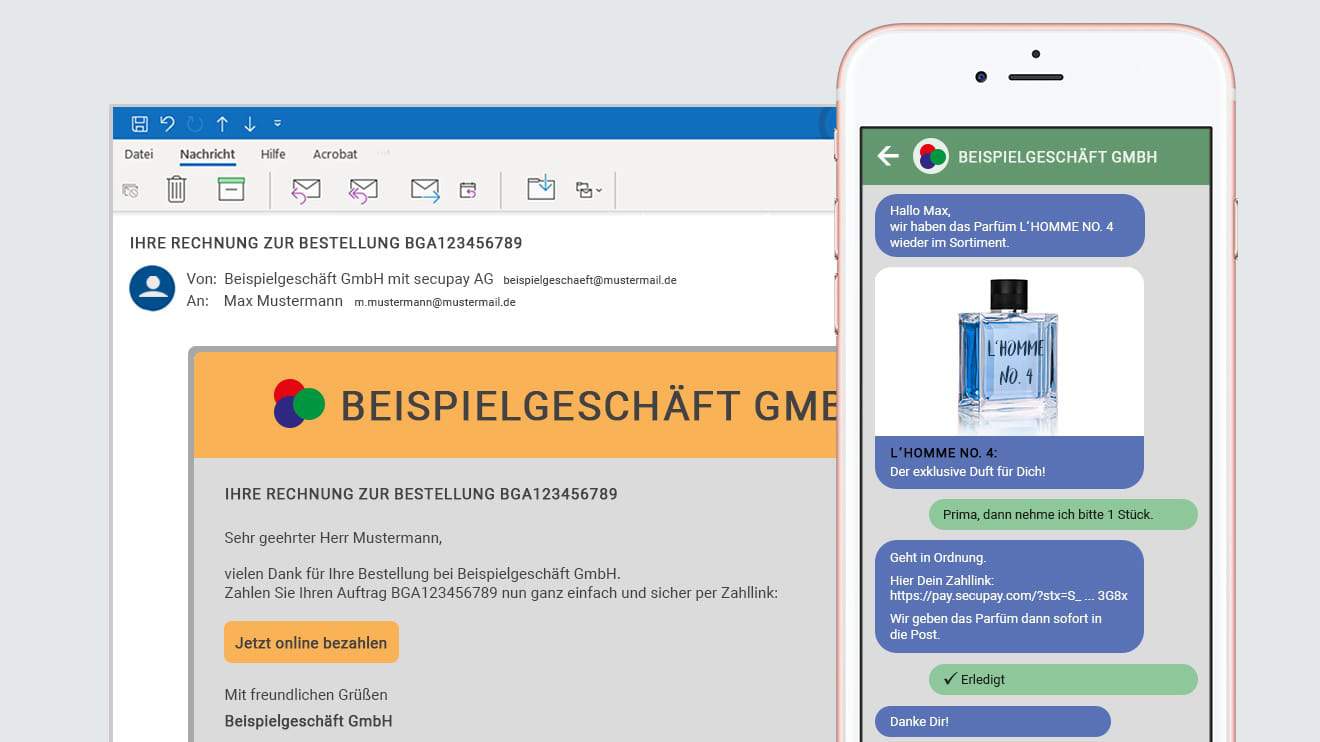 In short: a particularly simple and cost-effective way to use proven and secure online payment methods without having your own web store. For example, to make a binding reservation for a trip over the phone or to pay for goods ordered via email or chat, customers simply open a payment link they receive from the retailer through a digital channel such as e-mail, SMS, WhatsApp or customer chat. The link leads to a secure payment page, comparable to an online store's checkout area. Customers can then check the amount due and pay as usual via an established online payment method, such as credit or debit card, PayPal, giropay or Sofortüberweisung. The merchant is notified about the payment and can immediately ship the ordered goods or reserve the desired trip without any risk.
Where can I use the payment links?
Almost all industries have useful applications for payment links, namely whenever goods or services are not ordered directly at the POS from a distance. The secure online payment method can be implemented quickly and without any technical implementation effort, and does not require any additional hardware or long-term contracts. This makes pay links the ideal entry-level solution for small and medium-sized businesses that want to benefit from PSD2-compliant, secure online payments in their ordering business without having to sign long-term service or rental contracts. Payment links are particularly suitable
as an online checkout light for companies that are new to online retailing or only ship goods occasionally and do not (yet) want to use and maintain their own web store. For example, a speciality store that also wants to supply national customers, a cosmetics studio that offers customers care products to reorder for home, or a furniture workshop that makes pieces to order according to customer specifications.
for social commerce/live shopping:Selling on social media channels such as TikTok, Instagram or Facebook offers companies the chance to generate attractive additional revenue. Payment links enable secure and seamless payments without media disruption.
for classic email and telephone orders (MOTO), for example, the sale of travel or event tickets, hotel or rental car reservations, catalogue and brochure merchandise or limited-time offers, limited editions and collectables. Payment links are a secure alternative to accepting credit card details over the phone and can also replace more cumbersome payment methods such as prepayment or cash on delivery.
What are the advantages of the payment link compared to classic payment methods, such as credit card or prepayment?
Many companies process email and telephone orders by credit card, on account or by prepayment and cash on delivery. But each of these methods has weak points. For example, taking credit card data over the phone is simple but risky, because customers can subsequently object to the debit. Conversely, prepayment and cash on delivery are very secure, but costly for both sides and seem somewhat old-fashioned to digital-savvy customers.
Payments via payment link, on the other hand, offer the following advantages in the order business:
secure and PSD2 compliant: Unlike card data processed over the phone, payments via payment link are secured by strong customer authentication (2FA).
liability reversal: There is no chargeback risk for merchants. In the case of 2FA payments, the card-issuing bank is liable for damages caused by card misuse.
seamless digital customer journey: Unlike prepayment or cash on delivery, payment links save customers from filling out bank transfers or fumbling with cash.
increased willingness to buy and pay: Customers do not have to disclose their credit card details over the phone. This can prevent purchase cancellations and increase the conversion rate.
less administrative work: Merchants are informed immediately about incoming payments and can ship orders faster.
accelerated receipt of payment: When payment links are integrated as URLs or QR codes in digital payment requests, customers often pay amounts due immediately.
How do I enable my customers to pay via payment link?
Um Ihren Kunden bequeme und sichere Online-Zahlungen per Pay Link anzubieten, schließen Sie einfach einen Servicevertrag mit einem Payment Service Provider wie secupay. Unmittelbar nach der Freischaltung können Sie in unserem Online-Händlerportal secuOffice Links erstellen und digital auf allen Kanälen als URL oder QR-Code versenden. Abgerechnet wird nutzungsabhängig: Neben einer geringen Transaktionsgebühr fallen Gebühren für das jeweils verwendete Zahlungsmittel an. Als Akquirer kümmern wir uns um den passenden Zahlungs-Mix und sind Ihr zentraler Vertragspartner. Separate Akzeptanzverträge beispielsweise für Kreditkarten von Visa oder Mastercard, für giropay oder eps sind nicht erforderlich.
Use payment links from secupay and benefit from:
Learn more about the payment link from secupay.