Prohibition of surcharges
Extra fees when customers want to pay by card? This is anything but customer-friendly and in most cases even prohibited. The good news is: The right payment mix at checkout also pays off for companies, even without extra costs.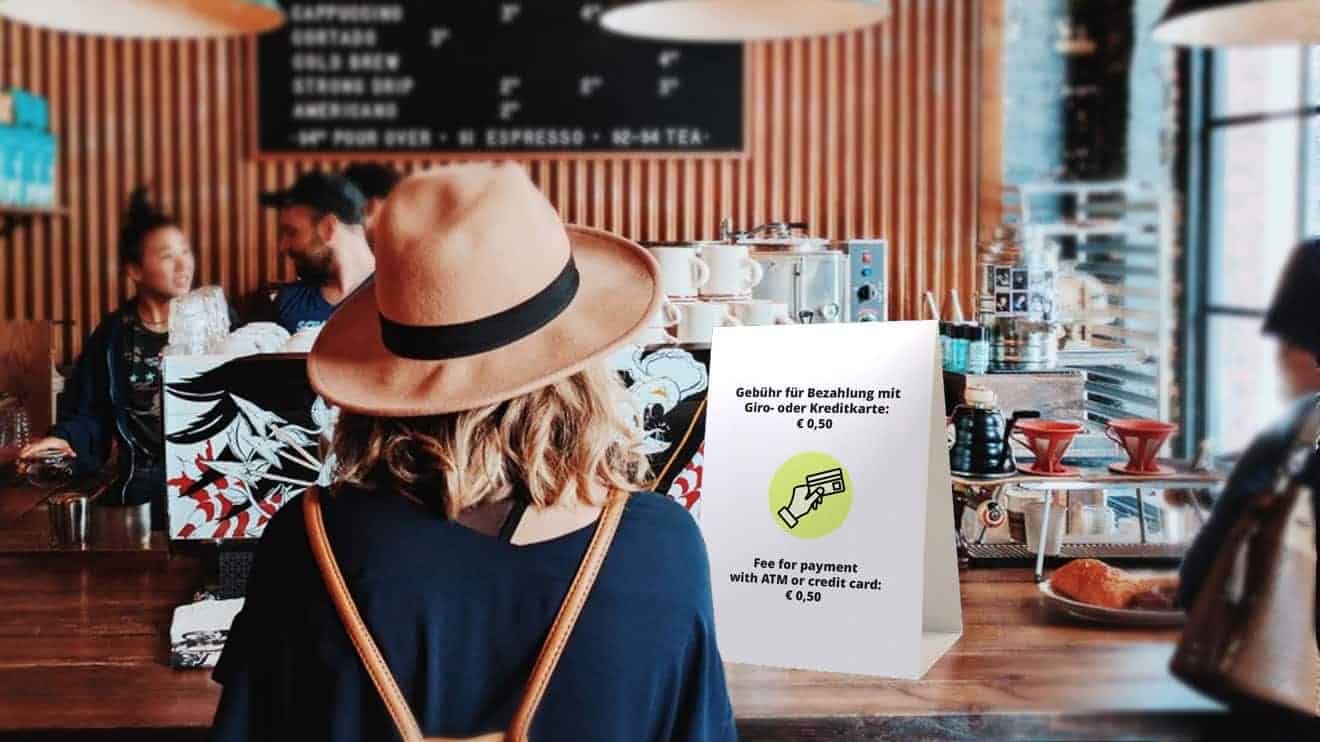 Are additional fees prohibited for all cashless payment methods?
No, not all payment methods fall under what is known as the "surcharging" ban - but the most important ones do. This follows from the German Civil Code: As early as 2018, an addition was made in conjunction with the "Law on the Implementation of the Second Payment Services Directive" through Section 270a BGB. According to this clause, extra charges for transfers, direct debits, and payments with bank cards, as well as debit and credit cards from Visa and Mastercard are prohibited. Payments with Amex and Diners Card are not affected, but their share of payment transactions in Germany is very small. The law applies to all businesses from corner kiosks to e-commerce corporations.
Can I pass on PayPal fees to my customers?
That is not a good idea. Whether or not PayPal and other online payment methods such as Amazon Pay or Klarna fall under Section 270a has been a repeated cause of debate in recent years. In the case of PayPal, the Federal Court of Justice (BGH) has since clarified in a ruling from March 2021 that surcharging fees are generally permissible. But because such extra fees are not well received by online customers, the payment service simply bans them in its terms and conditions. Companies that accept PayPal payments are therefore not allowed to pass on the costs – otherwise, you not only run the risk of purchases being cancelled but also of getting into trouble with PayPal.
Do I even have to accept card payments in the store?
You could say yes because if you didn't, you'd be giving up a lot of your revenue. Not least the covid pandemic and fast contactless payment have led to cards being swiped more often and also for smaller amounts. Around 60 percent of sales in bricks-and-mortar retail are already paid for without cash. The EHI retail institute in Cologne even estimates that by 2026 only one-third of sales will be made in cash. However, there is no legal obligation to accept cards. Minimum sales, for example, card payment only for purchases above €10 or €20, are also permitted.
What is the optimal payment mix?
The payment options you offer in your store depend to some extent on the industry and the customers. Today, however, cashless payment options are part and parcel of any business. For one thing, numerous studies show that customers abandon purchases or do not even visit stores if their preferred means of payment are not accepted there. Traditionally, the girocard issued by German banks and savings banks has been the most widely used payment card in Germany. However, with new debit cards or via "wallets", i.e. digital purses such as Apple Pay and Google Pay, international payment brands such as Visa and Mastercard are now trying to catch up at the POS. In many sectors, loyalty cards with a bonus function or vouchers offer the opportunity for additional sales and strengthen customer loyalty, especially in small and medium-sized enterprises.
How can I make payment transactions cost-effective?
Even without surcharging or limited card acceptance, companies can offer their customers optimal as well as economical service when paying at the checkout. "Cash is by no means a cost-effective payment option," says Hans-Peter Weber, founder and CEO of secupay AG. In a 2019 study, the Federal Reserve calculated an average cost of 24 cents per transaction or 1.8% of sales. Compared to fast cashless payment methods, long checkout times drive up personnel costs and also reduce customer satisfaction. Rising costs for change and cash disposal also play a role.
In addition, switching from direct clearing to accounting helps save costs. In this process, girocard payments are bundled in an interim account and paid out collectively to the merchant's business account. This saves merchants bank fees that would otherwise be incurred for each card payment.
Tips for cost-conscious companies:
Compare costs of different means of payment and explain them to sales staff
In a friendly manner, inform customers at the checkout which payment methods are accepted and actively offer alternatives, (for example, bank card instead of Visa debit card)
Agree on a cost-saving billing mode, e.g. once daily collected payment of the bundled card transactions


Would you like to learn how secupay can help you save on payment transaction costs?